---




Picture a place - vast open space, clear blue skies, bright yellow sand dunes, deep green oases, dinosaur remains lying scattered, stunning mountain ranges, steppe lands inhabited by traditional nomads, endangered wildlife such as the snow leopard, argali sheep and wild ass. Add to it an unrivalled culture and history, mystery and surprise.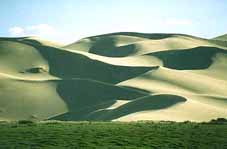 Gobi Tour is here for the real adventure tourist. Ouraim is to provide you with opportunities to experience the real Mongolian Gobi as well as other selected destinations (mentioned below). We have suggested routes to take in the major attractions of the Gobi, but we take you where you want to go. The staff are all from the Gobi, and therefore have a good knowledge of the local people and area. We give you the chance to stay with us and local nomads, to get away from other tourists, to merge into the Mongolian culture, and to join in with the lifestyles of the nomads.
Come and see the fascinations of the Gobi:

Yolyn Am - a gorge in the Gobi Gurvansaikhan Mountains that has a permanent ice sheet for most of the year, despite temperatures reaching up to +40 degrees in the surrounding areas.
Khongoryn Els - a 180km long range of sand dunes. Also known as the 'Singing Sands', their movement creates a sound like the distant roar of military aircraft
Bayanzag and Tugrugin Shiree - two world renowned fossil sites with major discoveries to their names
Sunsets and sunsets that are beyond your imagination. The cleanest air and the clearest view of the stars you'll find anywhere
Gobi Tour offers you the following services:
arranging accommodation for you in ger camps, Gobi hotels, with nomads and with us - real Mongolian hospitality with a family

arranging camel and horse riding treks, staying and working with nomadic herders, exploring the Gobi nature and landscape
tailor-made and suggested tour itineraries to the major sites within the Gobi and beyond.......

return transport to Ulaanbaatar by air or car, or return travel taking in the sites of Kharakhorum, Ovorkhangai or Dundgobi
Gobi Tour now offers tours from UB, in addition to those from South Gobi. We can arrange various lengths of tours to suit your interests.
A. From South Gobi:- 3 day-2 night, 4 day-3 night and 8 day-7 night tours in the Gobi Desert.
B. From Ulaanbaatar
10 day-9 night tour in the Gobi Desert via Kharkhorin, Erdenezuu monastery and Baga Gazriing Chuluu.
8 day-7 night tour to Khovsgol Lake.
5 day-4 night tour to Kharkhorin, Erdenezuu monastery via waterfall, sand dunes, a stone burial from the Bronze Age, Khujirt hot spring resort.
4 day-3 night tour to Kharkhorin, Erdenezuu monastery via sand dunes.
2 day-1 night and 3 day-2 night tour to Terelj national park.
1 or 2 day tour to Manzshir temple
For prices, please e-mail us at gobitour@yahoo.com.
C. GUEST HOUSES
In addition, we will operate guesthouses in both Ulaanbaatar and in Dalanzadgad (the center city of South Gobi). We will pick you up from the airport or train station for free (Ulaanbaatar and Dalanzadgad only) upon arrival.
D. CARS (Russian jeep / minibus)
If you wish to rent a car with driver, we can also provide that. The rate is around 300Tg/Km.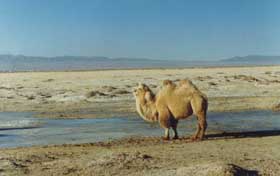 Travel is provided in Russian Jeeps or Minibuses, suitable for the rough Gobi terrain. You can either eat with the nomads, buy your own food or allow us to prepare meals for you ourselves. You let us know what you want and we'll do it!!
Gobi Tour is all about flexibility. We realise that all tourists aren't the same. You'll want something special from your trip to the Gobi and Gobi Tour is the operator to offer it. Our rates are the most reasonable available!!
For further information or to arrange a tour with us, please contact us by email or phone.
Enkhtuya

Gobi Tour Co., Ltd

Offices & Guesthouses in:

Ulaanbaatar and Dalanzadgad, South Gobi Province

Mongolia
For further information about travel and tourism in Mongolia, CLICK HERE